A. Introduction
WSBE17 Hong Kong - International Youth Competition invites imaginative ideas, projects and action plans that best demonstrate an innovative interpretation of the Conference theme "Transforming Our Built Environment through Innovation and Integration: Putting Ideas into Action" and the key discussion areas: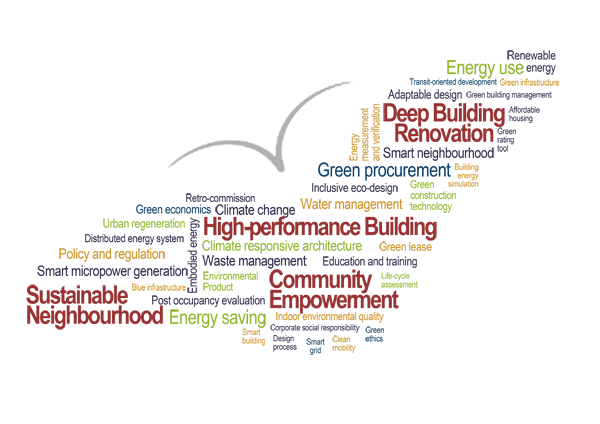 WSBE17 Hong Kong is the best platform to be seen and to be recognised! All shortlisted teams will:
Display their brilliant ideas at WSBE17 Hong Kong

Be known to over 1,800 global industry experts

Present in front of a panel of internationally acclaimed judges

Win a cash prize of HK$10,000 and 2 Conference Tickets
B. Eligibility
The Competition is open internationally to multidisciplinary teams meeting the following requirements.

Age:
30 or below

Team Formation Criteria:
Each team must consist of:
At least 2 full-time tertiary students who study in sustainable built environment-related disciplines, e.g. Architecture/ Engineering/ Green Building Studies/ Building Technology/ Urban Planning and Design/ Landscape/ Surveying, etc., AND

At least 2 team members from other subjects such as natural sciences, social sciences, economics, medicine, etc.
Team Size:
(Each team can invite 1 consultant as team counsel to provide professional advice.)
Remarks:
All members must be identified in the online registration form. A team leader must be designated. S/he is the team's sole representative to complete the registration online and liaise with the Competition Organiser.

All members in the team are regarded as co-authors of the submission. They will be acknowledged as such in all announcements, displays, exhibitions and other materials related to the competition, in the order in which their details are listed in the registration form.
C. Registration
All entrants are required to register online.
After the registration, each team will be given an Entry ID.
There is no fee for registration.
D. Submission Requirements
Presentation panel:
1 panel in A1 size laid out in landscape format must be digitally submitted in one single file.
The template can be downloaded here.
The panel should include a brief profile of all team members with a 100-word executive summary in English. The summary should describe the key concepts and features relevant to the competition theme and requirements.
File Format and size:
The file must be saved as high resolution PDF capable of being conveniently viewed on a computer screen as well as to be printed out to A1 size for exhibition (300 dpi).
The file must be named under the following logic: WSBE17 Hong Kong_IYC_Entry ID.
Please submit the registration and presentation panel through the online system on or before 21 Dec 2016.
Content:
The content should be sufficient to convey a clear understanding of the Conference theme. The panel could consist of drawings, rendered images, photographs, thumbnails, text or anything entrants find suitable to illustrate their ideas.
Copyright:
All work submitted must be the applicant's original work. It is the applicant's sole responsibility to ensure that the work submitted does not infringe upon the intellectual property rights of any third party, including, but not limited to, copyright, trademark and design rights.
E. Jury
Prof. Thomas AUER

Managing Director, Transsolar
Professor, Building Technology and Climate Responsive Design, TUM

Thomas is Partner and Managing Director of Transsolar, an engineering firm with offices in Stuttgart, Munich, Paris and New York. He collaborated with world known architecture firms on numerous international design projects. He is a specialist in energy efficiency and environmental quality. Thomas has developed concepts for buildings and districts around the world noted for their innovative strategies. Thomas taught at various universities around the world. Since 2014 he is full Professor at the TU of Munich with a focus in bridging academia and environmental design.

Prof. George BAIRD

Emeritus Professor, Building Science, School of Architecture, Victoria University of Wellington

Prof. George BAIRD, FCIBSE, FIPENZ, is Emeritus Professor of Building Science at the School of Architecture, Victoria University of Wellington.

A Scot by birth, he gained his PhD in Engineering from Glasgow University and attended the National College for HVR&F Engineering in London.

Following six years at the Building Services Research Unit, Glasgow and six at the Architecture School, Aberdeen, he moved to New Zealand in 1975 to help set up the School in Wellington. There, he has specialised in building environmental science and sustainable engineering systems design, building performance generally, and the energy efficient design and operation of buildings.

For current details see http://www.victoria.ac.nz/architecture/staff/george-baird.aspx

Prof. Greg FOLIENTE

Professorial Fellow, The University of Melbourne
Founder and Director, BLue Pty Ltd, Australia

Prof FOLIENTE is a Professorial Fellow at the University of Melbourne and Guest Professor in the EU-based International Master's and PhD Programme in Sustainable Built Environment. He is also the Founder and Director of nBLue Pty Ltd. He develops and applies systems-based approaches and leads inter-disciplinary and multi-stakeholder projects in climate mitigation and adaptation, sustainability of the built environment, and transitions to urban sustainability. With a PhD and two MSc degrees from Virginia Tech and advanced leadership training at CSIRO and the MIT Sloan School of Management, he serves as an expert consultant to industry, government and various international organisations.

Prof. Peter GUTHRIE

Professor, Engineering for Sustainable Development, University of Cambridge

Peter GUTHRIE was appointed in 2000 as the first Professor in Engineering for Sustainable Development in the UK.

His research is focused on the assessment of large scale projects for sustainability, resilience in infrastructure, energy efficiency in buildings, and sustainability in developing countries.

He has experience of research in the sustainable development of infrastructure in developing countries, including the challenging of the appropriateness of technical standards, issues of waste management, provision of basic services in rural contexts, and the potential for waste materials to be used as materials in construction, and the engineering of earth roads. He has worked with FIDIC (Federation of International Consulting Engineers) to produce a report on sustainability assessment for infrastructure (http://fidic.org/books/state-world-report-2012-sustainable-infrastructure).

Ms Deborah KUH

Head of Greening, Landscape and Tree Management Section, Hong Kong Special Administrative Region Government

Ms. Deborah KUH is an internationally recognised designer, specialising in inter- and trans-disciplinary urban design, master planning, architecture, landscape architecture, interpretation and furniture design projects. She bases her designs on the concept of Place Ecology, focusing on sustainability, connectivity, tactility and respect for diversity of the human condition. Her work spans geographies including Australia and the Middle East. Ms. KUH returned from Australia in 2015 to join the Hong Kong government's Development Bureau where she explores policy opportunities, such as landscape resilience and adaptation, urban forestry and biodiversity in the city, with the aim of promoting a more liveable city.

Ms Christine LOH

Under Secretary for the Environment, Hong Kong Special Administrative Region Government

Ms Christine LOH was the Chief Executive Officer of the non-profit public policy think tank Civic Exchange prior to joining the HKSAR Government in September 2012. Prior to founding Civic Exchange in 2000, Ms LOH had spent nearly a decade as a politician and member of the Legislative Council (1992-97 and 1998-2000).

Before joining the Legislative Council, Ms LOH held senior regional positions in commodities trading, as well as in project negotiation. Having been very active in public affairs since 1980, she had founded or served on boards of a wide range of non-governmental organisations in Hong Kong and overseas concerning a variety of issues including environmental protection, urban planning and design, and equal opportunity. Ms LOH is a lawyer by training.

Prof. Serge SALAT

President, Urban Morphology & Complex Systems Institute

Serge SALAT is an urban planner, a scientist in the science of complexity, an art historian and an internationally recognized architect/artist. He is the founder and President of the Urban Morphology and Complex Systems Institute based in Paris.

Serge SALAT has been seminal in applying the science of complexity to cities. He has authored more than 20 books on art and architecture, as well as more than one hundred publications and communications. He has opened the way in introducing physics far away from the equilibrium, fractals, as well as network analysis and complexity science to a better understanding of cities.

He is a practicing architect and city planner and advises international organizations such as United Nations, The World Bank, AFD (French Agency for Development) and CDC (Caisse des Dépôts et Consignations), on strategic transitions of urbanization in particular in China, where he brings a unique integration of scientific skills, economic, financial and governance competence with his experience of designer of large scale projects to advise on national policies as well as on specific projects. He is one of the authors of the Fifth IPCC assessment report.

Prof. Arno SCHLUETER

Professor, Architecture and Building Systems ETH Zurich
Principal Investigator, Future Cities Laboratory, Singapore ETH Centre

Arno SCHLUETER holds a degree (Dipl.Ing.Architektur) from the Technical University of Karlsruhe, a postgraduate degree in CAAD and a PhD in building systems from ETH Zurich. In 2010, he was appointed Assistant Professor and in 2014, Full Professor of Architecture and Building Systems (A/S) at the Institute of Technology in Architecture (ITA), ETH Zurich. Since 2013, he is also a Principal Investigator at the Singapore-ETH Future Cities Lab (FCL). In his research, he and his interdisciplinary team focus on sustainable building systems, new adaptive components and their synergetic integration into architecture and urban design using computational approaches for modelling, analysis, and control. In 2009, he co-founded the design and engineering office KEOTO.ch, where he is part of the management board. The work of the A/S group has been published in scientific journals, magazines and books and has won international competitions and prizes
F. Prizes
The jury will perform first round judging to select no more than 10 teams with reasons provided. Shortlisted teams must send at least 1 representative to make a presentation on their proposal during the WSBE17 Hong Kong (5-7 Jun 2017) during final judging. After the presentation, the jury will grant a special award to each team.
All shortlisted teams will:
Display their entry in WSBE17 Hong Kong Exhibition

Present in front of a panel of internationally acclaimed judges

Special award presented by the jury

Cash prize of HK$10,000 and 2 Conference Tickets
Remarks:
Prizes will be presented to shortlisted teams under the condition that the team can send at least 1 representative to attend the Conference and make a presentation during final judging.
Prizes will be presented to the team representative and are to be shared at the discretion of the team members.
The jury's decision shall be final and binding on all entries.
The Competition Organiser reserves the right to use the entries and photos for marketing purposes.
The Competition Organiser reserves the rights to change the rules of the Competition.
G. Competition Timetable
Deadline for submission: 21 Dec 2016

Announcement of shortlisted teams: End of Feb 2017

Presentation of shortlisted teams to the jury, Prize Presentation, Exhibition of shortlisted entries: 5-7 Jun 2017 (Incorporated in the Conference Programme, exact date to be announced)
For any enquiries please contact WSBE17 Hong Kong Secretariat: +852 3468 7175 / competition@wsbe17hongkong.hk